---
Skin Care with Jurlique
---
Our very special facials are designed to pamper the skin, ease the mind, and restore your spirit. Your esthetician will analyze your skin, discuss our skin care concerns, and select the ideal treatment for your unique needs. Your skin will feel nourished and revitalized. Each facial is a head-to-toe experience with warm mittens, hand and neck massage, and  warm booties to pamper your feet.
Book a Treatment | (808) 240 6622
Call the Spa at the number above to make an appointment. Click the boxes below to read more about each treatment.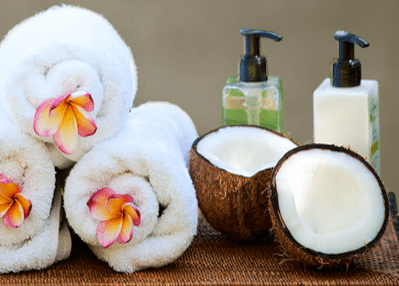 Custom Deep Cleansing Hawaiian Facial
Ideal for skin showing signs of dehydration and travel related stresses. Exfoliation, application of a custom made mask will nourish and hydrate, improve your skin's appearance and leave you feeling younger and refreshed.
$140/50min $190/80min
Anti-Aging Coffee Renewal Facial
As we notice the signs of aging – a new wrinkle, or perhaps skin texture changes, our skin needs special attention to help rejuvenate its appearance. This hydrating facial incorporates highly effective coffee serums and nutrient rich formulas to minimize lines and firm the skin.
$215/80min
Kane (Men's) Executive Facial
Formulated to help counter exposure to the elements while golfing, surfing, and adventuring on Kauai. This restorative facial addresses men's concerns including shaving irritation and reducing the appearance of fine lines and wrinkles.
$140/50min $190/80min
Back Facial
This unique treatment begins with soothing warm towel compresses, followed by gentle exfoliation and a custom made mask for your skin type, concluding with a moisturizing application of lotion or sunscreen.
$140/50min
Express Facial
Tailored for guests seeking an abridged facial experience
$95/25 min